AT198 portable alkhol tester Flat-surfaced alcohol sensor Big factory
2016-03-29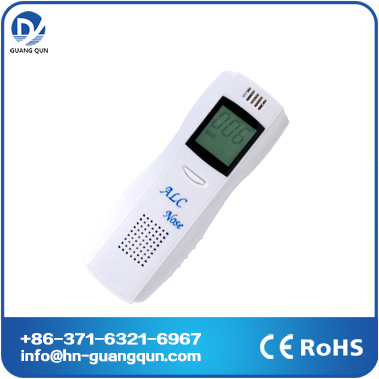 1.Technical Parameter of AT198 Digital Alcohol Tester
1.Sensor : Flat-surfaced alcohol sensor
Range of measurement: 0.00-1.00mg/L ; 0.00-2.00g/L;
0.00-0.20%BAC; 0.00-2.0‰BAC;
Alarming Level: 0.50g/L; 0.05%BAC; 0.5‰BAC; 0.25mg/L
Accuracy: +/-0.02%BAC at 0.05%BAC
Battery: 2X AAA batteries
Working Temperature: 0℃ - 50℃
Relative Humidity: ≤93%RH No dews
Warm-up Time: <18 counting down
Response Time: < 8 sec
Display: 3 digitals LCD
Dimension: 102X37X20mm
Weight: ≤50g
Certificate: CE & RoHS
Package:Colorful giftbox Packing, 100pcs/carton
Carton size :33*39*45cm
Wight/carton: 9.00Kgs

2.Features of AT198 Digital Alcohol Tester
Advanced flat-surfaced alcohol sensor
Energy saving &Environment friendly
Quick response,excellent accuracy
Smart MCU control
Direct testing process LCD Indication
LCD Indication,word pattern with back-up lamp
Portable design
No touch healthy design
Visible and audio warning beyond pre-set limit
Power saving design,low battery indication

3.Product Description of AT198 Digital Alcohol Tester
ALC Nose breath alcohol tester should be used only to give an indication of the possible presence of alcohol in the breath/blood. You should not rely upon it as the sole basis to determine intoxication or whether it is safe to drive a vehicle, operate equipment, or engage in dangerous activities.Everyone has different body responds to alcohol consumption and his testing result only as reference, not a subject standard for consequent decision.The manufacturer, importer or distributor takes no responsibility whatsoever for the use of this product for any reason. This product must not be used as a tool for determining whether a person is able to operate a motor vehicle or device legally or safely. The intake of any alcohol will impair reflexes and judgment to operate motor vehicle.
4.Our Competitive Advantage
(1)Certificates CE &RoHS
(2)More than 10 years export experience
(3)Have our own R&D Team and Sensor is made by ourselves.
(4)Fast delivery Parts of products are available in stock and can send within 3 working days
(5)After-sales Service
All the products have 1 year warranty, and It will be free from maintenance within warranty period, products over warranty period for paid services.