AT8100 Digital Alcohol Tester with CE&RoHS
2018-04-17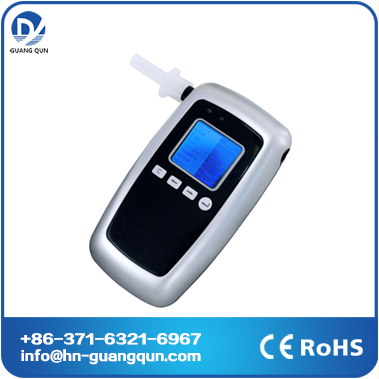 1.Technical Parameter of AT8100 professional alcohol tester
Sensor: Fuel cell alcohol sensor
Test Range: 0.000-2.000mg/l (0.400%BAC; 4.000‰BAC; 4.000g/l)
Alarming level: Pass level: 0.090mg/L (could be modified)
Fail level: 0.250 mg/L (could be modified)
Work environment: Temperature: 0-50℃
Humidity: 95%RH (no dews)
Power: 2*AA alkaline batteries
Rating capacity: 2.1AH
Dimension: 122*67*31mm
Weight: about 120g(excluding battery)
Accuracy:<0.400 ±0.032 mg/L
0.400 - 1.000 ±8%
1.000 - 2.000 ±30%
Packing: Aluminum Alloy suitcase
5 pcs packed in one carton
Carton size is 33*39*45cm
Gross weight per carton is 10.00 Kgs.
Certificate: CE RoHS
2.Features of AT8100 professional alcohol tester
Fuel cell sensor, good reliability and accuracy
Passive and active testing available
Healthy Anti-return mouthpieces
Colorful LCD indication
Real temperature and time indication
Two-level audible and vision alarming level adjustable
Simple operation and calibration by user
Testing records review function
2000 memory records ,including testing time ,result and type of result
Password management
Printer and computer communication optional
3.Product Description of AT8100 professional alcohol tester
AT8100 is an advanced portable Breath Alcohol Tester. Its core component adopts new fuel cell alcohol Sensor which can measure accurately concentration of the breath alcohol, with strong anti-interface ability. AT8100 has compact keyboard and menu operation. The admirable human-device interface makes operation more concise and convenient, the color LCD makes interface more clear and beautiful. It also has wireless printing function, one-off anti-return mouthpiece ensures the health and safety of users.
4.Company Advantage
(1)Certificates CE &RoHS
(2)More than 10 years export experience
(3)Have our own R&D Team and Sensor is made by ourselves.
(4)Fast delivery Parts of products are available in stock and can send within 3 working days
(5)After-sales Service
All the products have 1 year warranty, and It will be free from maintenance within warranty period, products over warranty period for paid services.