AT319V coin operated alcohol tester Professional fuel cell sensor producer
2016-03-28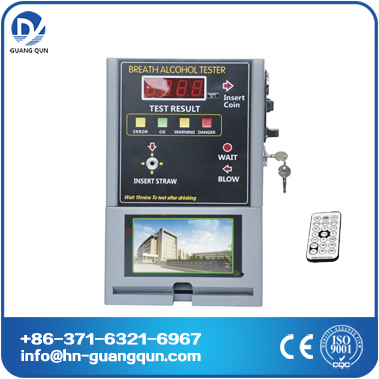 1.Technical Parameter of AT319V Coin operated alcohol Tester with video
Model: AT319V
Sensor Type: fuel cell sensor
Working Voltage: AC110V~AC220V, 50/60HZ
Output: DC12V/1.5A
Working Current: ≤15mA
Environment Temperature: -20°C~60°C
Relative humidity: <95% No Dews
Response Time : < 8s
Test Range :0.000~2.000mg/L(0~440mg/100mL,0.000~4.000g/L, 0.000~0.400%BAC, 0.000~2.000‰BAC)
Warning level: 0.090mg/L; Danger level: 0.250mg/L
Accuracy:±8%
Warning method: Audio and light
Adjustable Pricing: 0~15coins/time (for 0, the tester will work in free mode)

2.Features of AT319V Coin operated alcohol Tester with video
Coin operated
Test result with 4 digits display
Large lighting block to indicate the operating procedure on the panel
3.Product Description of AT319V Coin operated alcohol Tester with video
This self-service machine is designed to measure alcohol concentration in the human body. With advanced fuel cell alcohol sensor, this device has excellent sensitivity and reproducibility. When the alcohol content exceeds the preset alarming level, it will send out an alarm warning and show the result directly and clearly on the digital LED display.
4.Our Competitive Advantage
(1)Certificates CE
(2)More than 10 years export experience
(3)Have our own R&D Team and Sensor is made by ourselves.
(4)Fast delivery Parts of products are available in stock and can send within 3 working days
(5)After-sales Service
All the products have 1 year warranty, and It will be free from maintenance within warranty period, products over warranty period for paid services.