BX176 Portable Single Gas Detector/gas leak detector CO with CE
2016-04-25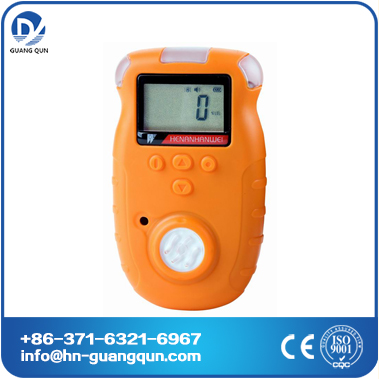 1.Technical Parameter of BX176 Portable Single Gas Detector
Model: BX176
Accuracy: <= +/-5% F.S
Response time: T90<30s
Operating temperature: -20oC~50oC (for toxic gas)
-40°C-70°C(for combustible gas)
Humidity: <95%RH non-condensing
Operating voltage: DC3.7V Li-ion battery 1300mAh
Combustible gas:≥8h
Toxic gas: ≥300h continuously
Charging time:4h~6h
IP rating: IP65
Weight :about 125g (including battery but without accessories)Dimension
Dimension: 104mmX60.8mmX30.5mm
2.Features of BX176 Portable Single Gas Detector
Intrinsically safe
2000 detected records
Two alarm level, adjustable
Calibration point adjustable
STEL&TWA alarm for toxic gases
Visual/audible/vibrating alarm
Self protection against high concentration combustible gas
Low battery alert
Data uploading
Password management
Self- test when power on
Self-diagnostic and self correction function
3.Product Description of BX176 Portable Single Gas Detector
BX176 portable single gas detector (intrinsically safe) can make continuous detection to combustible and toxic gases. It is suitable for combustible and toxic gas leakage detection in underground pipe or mines, and keeps the workers safe, prevents the facilities from being destroyed.
4.Company Advantage
(1)Certificates CE
(2)More than 10 years export experience
(3)prices 5% lower than other brand
(4)Fast delivery Parts of products are available in stock and can send within 3 working days
(5)After-sales Service
All the products have 1 year warranty, and It will be free from maintenance within warranty period, products over warranty period for paid services.